Learn How to Start Selling UCaaS, DRaaS and SD-WAN
Your customers want cloud services. So why aren't you selling them?
If you're not taking advantage of the current rush toward cloud solutions, you're missing out on a golden sales opportunity. In fact, by 2018, at least half of IT spending will be cloud-based, according to IDC.
The free guide UCaaS, DRaaS and SD-WAN: Driving Revenue With Cloud Solutions offers valuable tips and information for agents getting started in cloud technologies. You'll learn:
● Why cloud services benefit both customers and agents
● How you can increase revenue offering cloud technology
● A rundown of popular cloud solutions that are easy to sell
Fill out the form to download your free guide and learn how to capitalize on the growing demand for cloud services.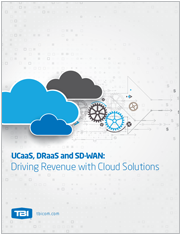 Are You Ready to Sell Cloud Solutions?
Thank you for your inquiry
Someone will be in contact with you via phone call within the next 24 hours. While you wait, we think you might find these popular blog posts interesting.
5 Ways to Capitalize on the Security Skills Gap
Selling Security Solutions in an IoT World
SD-WAN and MPLS: It's a Marriage, Not a Divorce!