Everything you need to know to serve customers in the age of Digital Transformation.
Complete the form to access the full guide with customizable collateral.
Your customers' digital transformation journey has already begun. $1.2 trillion was spent on digital transformation projects last year and will continue to increase – IDC is predicting a $1.7 trillion per year market over the next two years.
Be the consultant your customers rely on to help navigate their journey. Download our free guide to digital transformation in 2018 and get the insight you need to ask the right questions and sell. The guide covers:
Digital transformation scenarios

IT executive priorities

Solutions to add to your portfolio

Cloud migration

Infrastructure as a Service (IaaS)

Systems management services (DaaS)

Security (DDoS mitigation, managed firewall)

Mobility (IoT, MDM, TEM)
Complete the form to access the guide.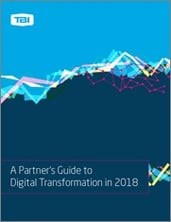 Thank you for your inquiry
Someone will be in contact with you via phone call within the next 24 hours. While you wait, we think you might find these popular blog posts interesting.
5 Ways to Capitalize on the Security Skills Gap
Selling Security Solutions in an IoT World
SD-WAN and MPLS: It's a Marriage, Not a Divorce!